First of all, thank you for downloading our app! We have spent a lot of hours testing, coding, and perfecting what we feel is the best app for notifiying you of your device's connection information. We are also proud to be the original Project Fi™ companion app. We are no where near done, and as such this page will be updated with the great new features that will be rolling out in the future.
The Home Screen
When you first load our app, you should come across our landing page. This is the central hub of Signal Spy. You can easily see how your device is connected to cellular towers and WiFi access points.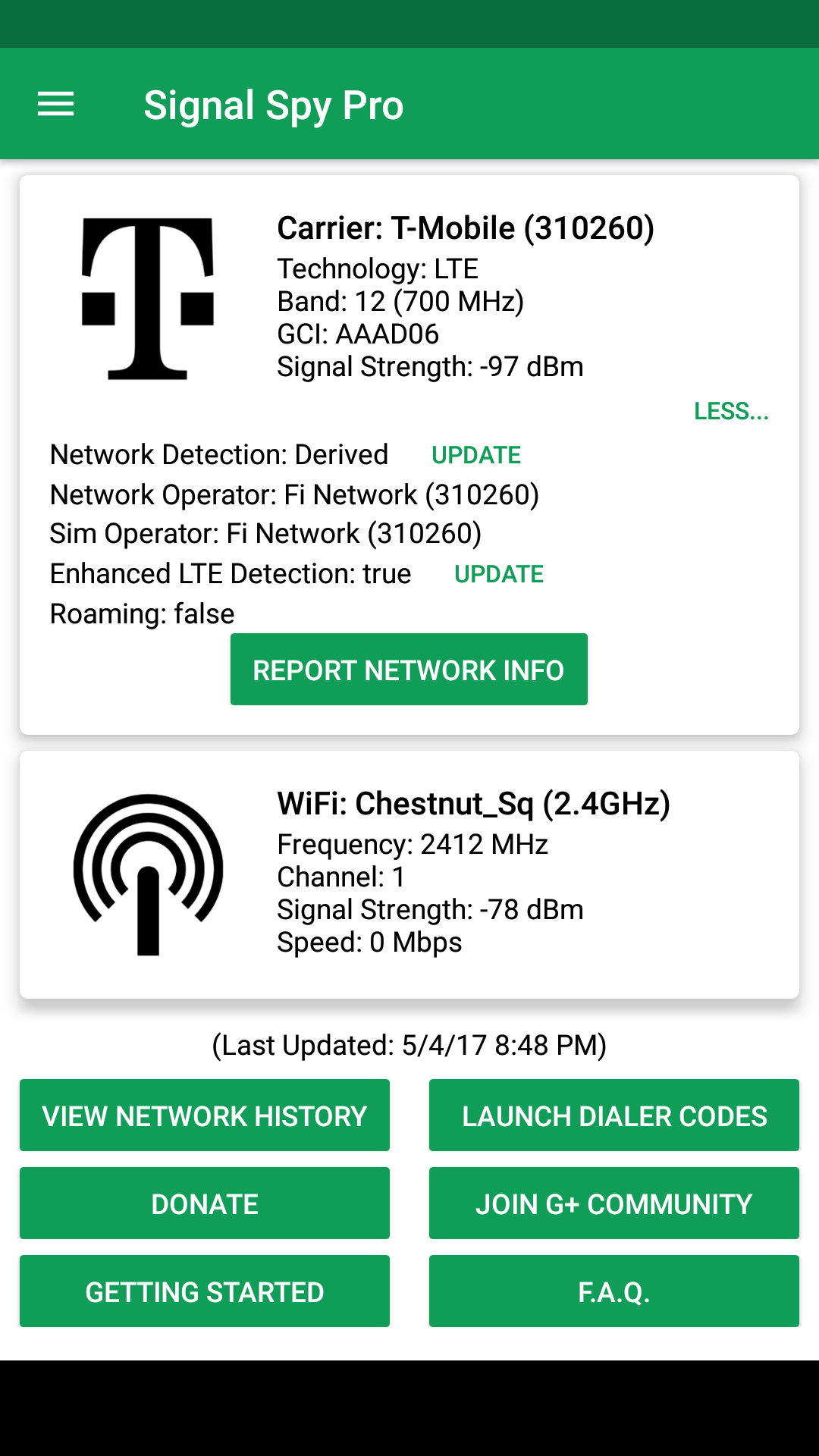 (Pull down to Refresh)
For cellular connection, we provide you with...
the name of the carrier, the technology you are connected to (in order of fastest to slowest: LTE, HSPA, 3G, EDGE, 1xRTT)
the band (if connected to LTE, more on that here)
the GCI (although not useful for daily use, it could be useful for troubleshooting and for helping us with bad LTE band classification)
and the signal strength (the closer to zero, the better)
the network operator (who runs the network)
the SIM operator (who provided the SIM card)
the roaming status of the device
Feel free to report the network information if the cellular information isn't available!
For wi-fi connections, we provide...
the name (SSID) of the Wi-Fi router
the frequency it is transmitting at (5GHz has more bandwidth, but does not travel as far. 2.4GHz travels farther but has less bandwidth.)
the channel used by the router (for diagnostic purposes)
the signal strength (closer to zero the better)
the link speed (or bandwidth of the router, not to be confused with internet speed - this is the link between your device and the router and other computers on the same network)
Finally, on this main page, we provide some useful links and shortcuts. The first is to the history portion of Signal Spy. There is a link to the store portion of Signal Spy, where you can upgrade to Pro. We also provide a link to our Google+ community, where you can interact with fellow Signal Spy users and keep up with announcements from the developers! Links to this getting started page, as well as the FAQ page of our website, are also included. Finally, for Pro users, we provide a dialer code library that allows you to dial any of the codes our app provides quickly and easily in one place!
Network History
If you ever wanted to see how you connected during your day, how often you changed carriers, or what the name of that random Wi-Fi hotspot you auto-connected to, this is the page for you!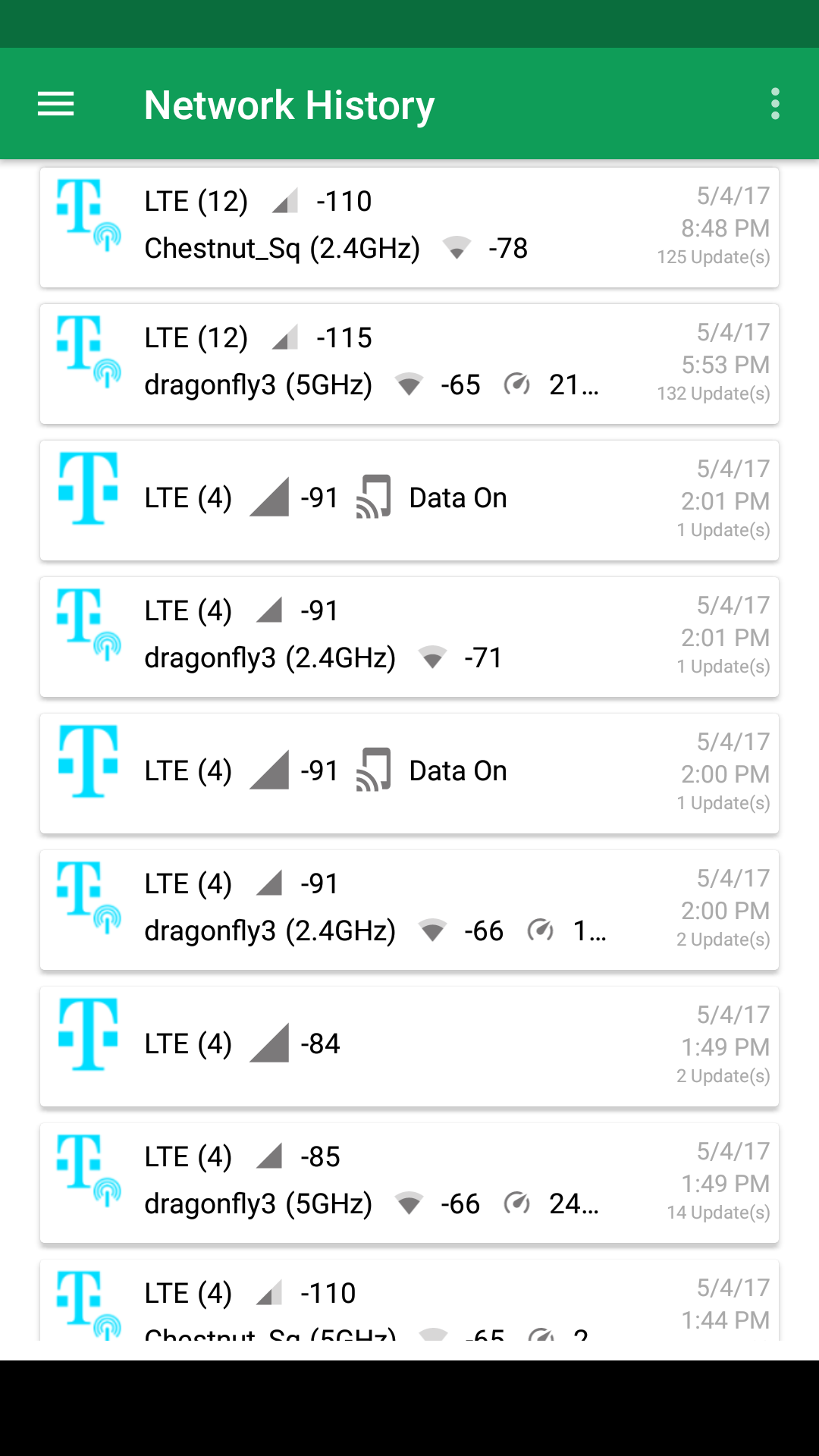 For free users, you will only see the name of the carrier being used (or airplane mode) and the name of the Wi-Fi network you were connected to (if any). For Pro users, you'll see the history menu above. It'll provide more granular details about the signal levels, what cellular technologies were being used, if applicable, what bands, as well as the approximate location. This feature is great if you want to know where you had signal issues or for bug reporting purposes.
Data Usage
Project Fi provides you updates on how much data you're using, but you can only see it cumulatively over your current billing statement, not per day or per app. Signal Spy does!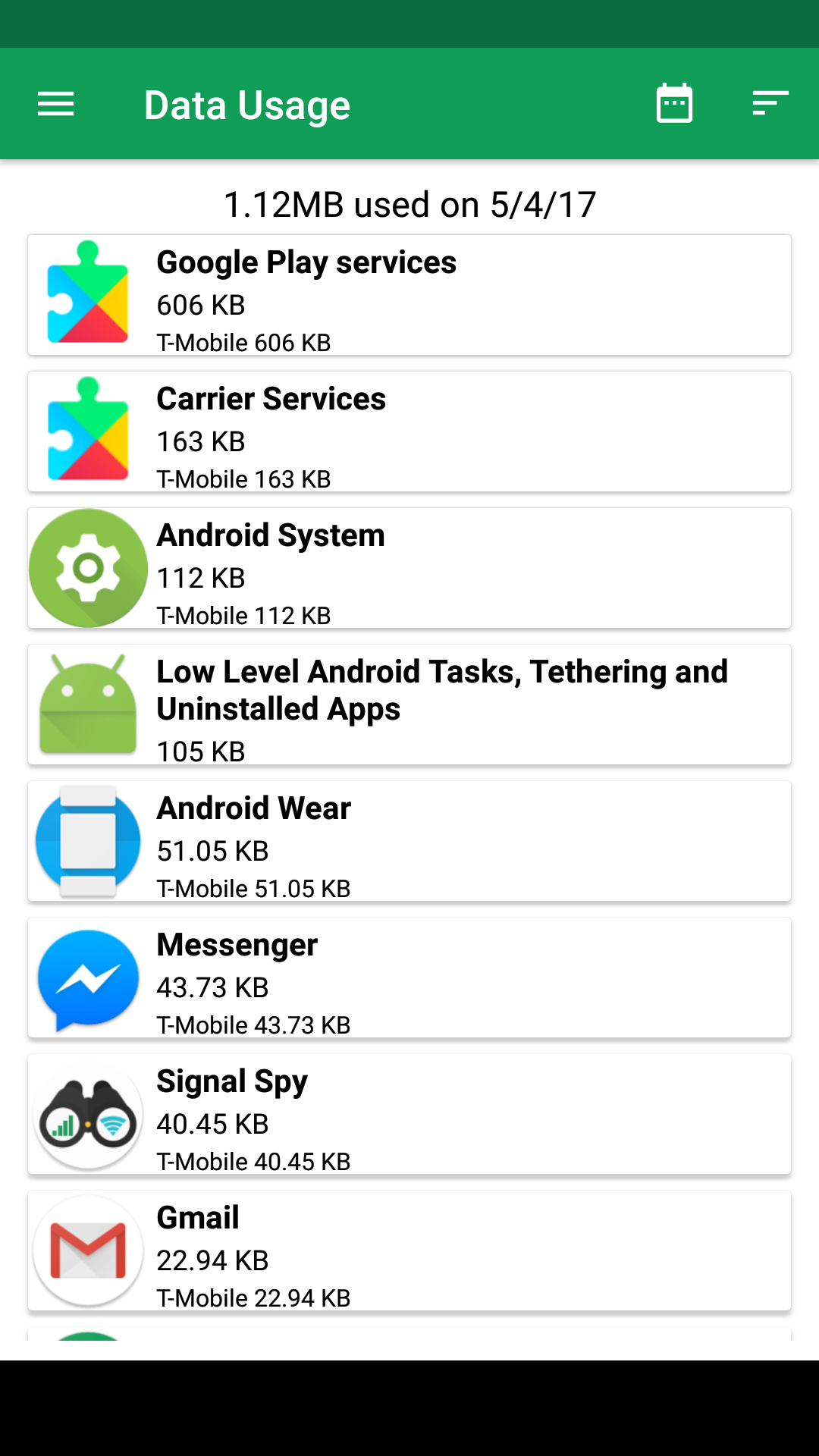 For free users, you'll be able to see all of the apps that used data today, along with the amount used, sorted alphabetically. For Pro users, you'll be able to sort by data used, see data usage over a number of days, and be able to see data usage of each app per Fi network..
Useful Resources
If you download our app, we know that you are really into Project Fi™ and want to know as much as you can. If you want to be amongst like minded users, or want to get easy access to other useful material, this page has it all!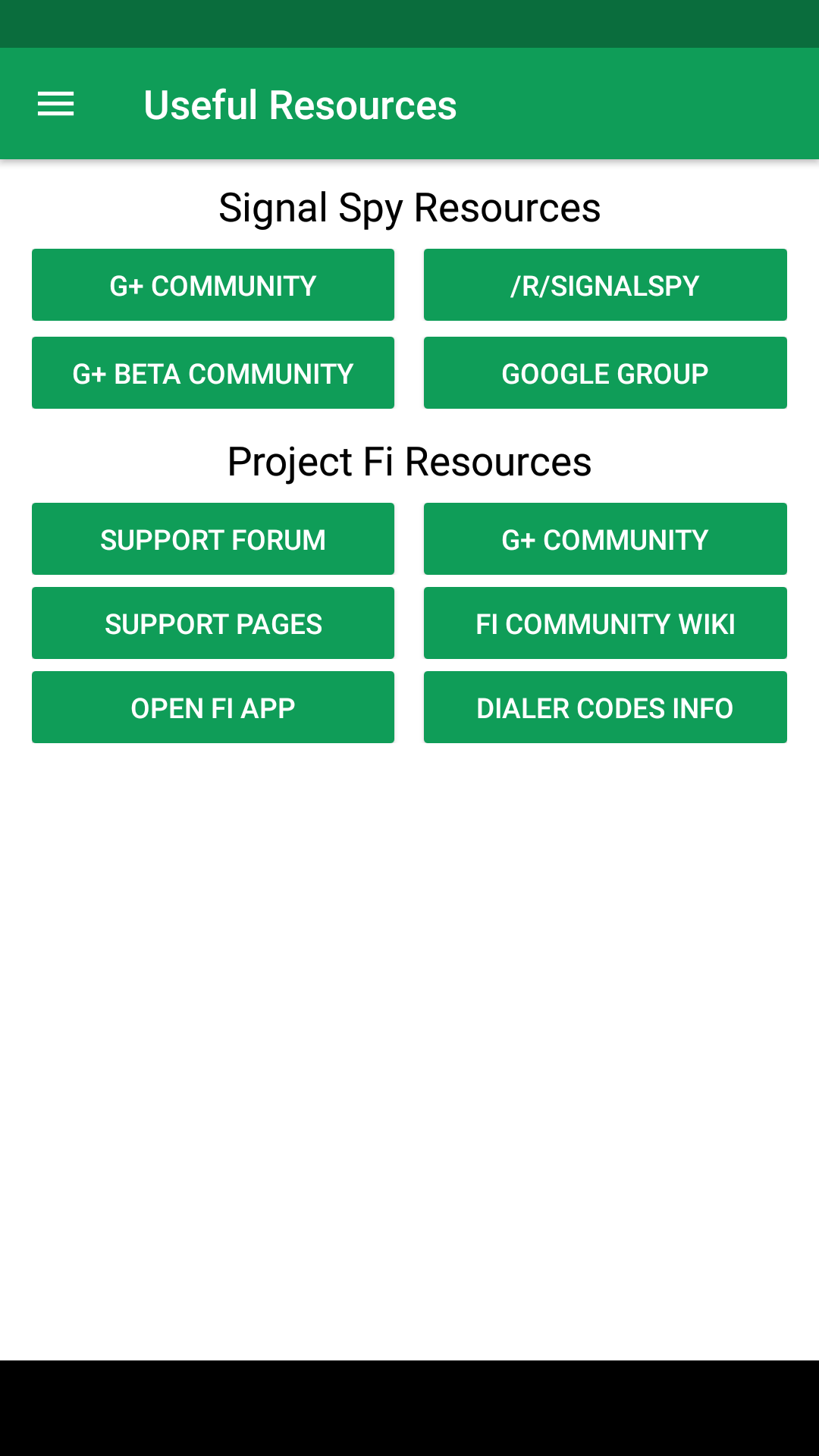 You can click on any of the buttons to go to specific communities for Signal Spy or Project Fi™. You can also click to link to articles on dialer codes, to open the Project, or for Nexus 6 owners, the LTE engineering app.
Settings
Apps are nothing unless they can be tailored to the experience that is best for you. We have worked hard to provide the options that users have requested the most. Many of our top questions or feature requests are actually taken care of on this page!
Start on Boot: Start Signal Spy when phone boots
Status Bar Icon Behavior: Options are Always On, On when app is not closed, Only in status bar pull down, On only for changes (dismissable) (COMING SOON) or Off
Network Tracking: Options are Always, Only while screen is on or Only while screen is on Or plugged in
Network Detection: Options are Derived, Network Operator, or SIM Operator
Enhanced LTE Band Detection: For Android N users, get the most accurate band detection on any carrier. Android M users can get band connectivity info collected by N users.
Exit App Behavior: Options are Ask me every time, Exit, but keep running in the background, or Exit completely
Combo Icons: Show single icon with the default network connection or show icons combining wi-fi and mobile connections
Show Dialer Codes in Notification: Show the shortcuts for the dialer codes in the Notification
Auto Dialer Warning: Show a warning when trying to use the auto dialer when Accessibility mode is disabled
Dialer Code Options: Choose which dialer codes are used in the Notification
Location Features: Whether or not you allow Signal Spy to get your location information to enhance your experience
Widget Background: Set the widget background color
Widget Font: Set the widget font color
(Pro) Use Dark Theme: Activate the dark theme for Signal Spy
(Pro) Show Data Usage on Notification: Allow the data usage as part of the notification
(Pro) Data Limit: Turn on and off the data limit feature, allow permissions, and set the daily limit
Hide Notifications in Lock Screen (Experimental): Attempt to hide the Notification when the screen is locked
Store
We hope you enjoy our app. Our goal is to provide you with all of the information you need to have a great experience, to geek out, or do to both. :)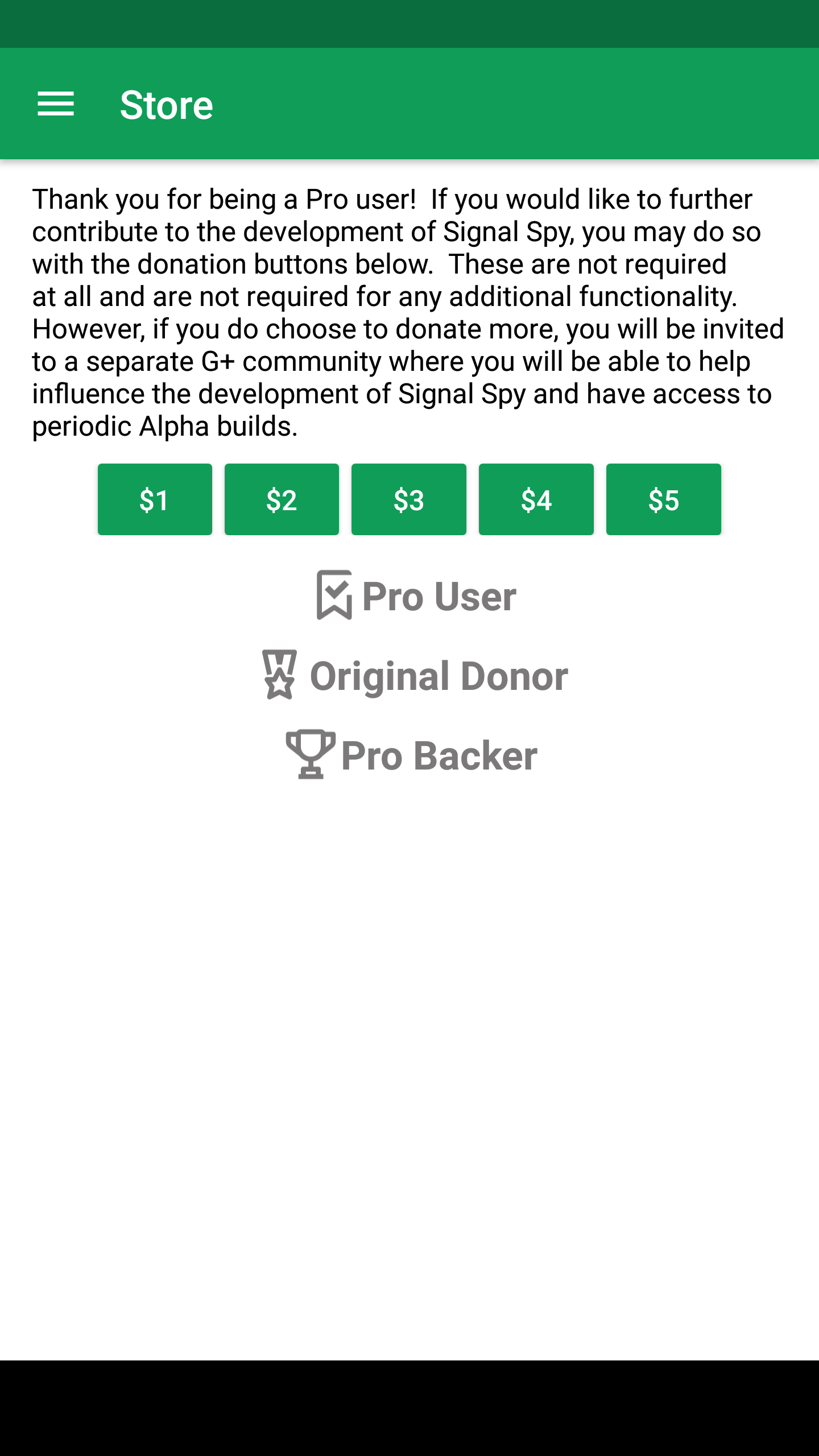 If you are a free user, you can
upgrade to pro
for $2. This adds not only the extra history features we mentioned before, but it also removes ads, enables root and rootless copy-free dialer codes, and more features as our app grows. You can also donate beyond $2 if you are so inclined and become a
Backer
! We appreciate it!
We hope you enjoy Signal Spy! If you run into any problems or are not satisfied, we want to hear from you! We are here to help.